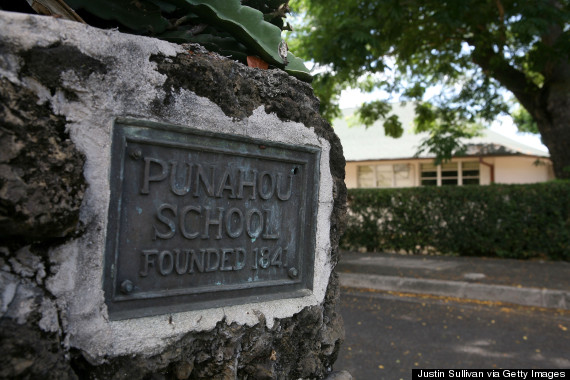 I Kicked Barack Obama's Ass in High School!
By Ron Patton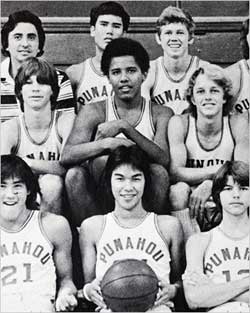 As Barack Obama enters the White House as the 44th President of the United States of America, the mainstream media has intentionally suppressed and covered up potentially, the most revealing news story of 2009: How I, Ron Patton, kicked Barack Obama's ass in high school.
In 1975 and 1976, I lived in apartments with my mom across from Punahou School in Honolulu, HI. I attended a rival high school, St. Louis. After school, I'd catch the bus home, change into my hoop attire, featuring my prized Georgetown University jersey and venture onto enemy territory with some trepidation. As I walked closer to the outdoor courts, I saw a lanky, light-skinned papolo (black person) with a modest fro, shooting the basketball with pin-point accuracy. I asked him if he'd like to play some one-on-one, and in a deep voice he said, "Sure…" So we played about three games, all of them fairly close but I won all them. You see, my uncanny ability to drive to the hoop along with my razzle-dazzle Basketball Jones cross-over mesmerized and baffled the rigid, stiff-legged young lad, who was simply bewildered and awestruck by such a display of superior hoop-dom.
During the tail end of the third game, several classmates of the overwhelmed teenager arrived at the courts, with one of them yelling, "Barry…let's play!" Some funky soul brothers from the Bay area also arrived, bringing along a ghetto blaster, blaring out some Ohio Players tunes.
Somehow, we arrived at the decision to divide the teams up with me and the mainland dudes versus those youngsters from the home turf. Punahou's finest played with lots of teamwork and tenacity but we won all of the games with greater skill, better trash talkin' and good ol' fashioned, physical intimidation. During a game, one of my team mates dubbed me the "white rabbit." I surmised his reasoning for such a perplexing title was due to my propensity to accelerate up and down the court with amazing speed. My secret for such a stellar performance: green tea and Drixoral (prescribed allergy medicine). I was in a zone, baby! During this merciless onslaught, B.O. appeared confounded and distraught, occasionally gazing upward for some divine comfort and guidance.
Meanwhile, we, the victors exchanged some old school jive and enthusiastically chanted, "Yes we can!" while Punahou's down-trodden freshman team went to go practice in the gym. The humiliating defeat most likely provided them with the impetus to vastly improve their game, culminating with taking the state basketball championship in 1979. And surely, the thorough ass-kicking left an indelible impression on Barack "Barry" Obama, who decided to pursue bigger and better things.
You'd think he would have had the courtesy to hire me on his staff as Director of White House Athletics, but no such job offer as of this writing. Maybe he'll read this story and feel compelled to do the right thing. I'll wait patiently.