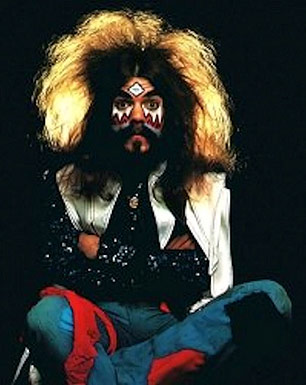 Rock and Roll Conspiracy: Roy Wood vs. Harold Wilson – Was Harold Wilson a Communist Operative?
by Joan d'Arc
This article will outline the theory that British Prime Minister, Harold Wilson, was a deep cover communist operative at the time he redistributed the wealth of "glam rocker" and experimental musician, Roy Wood, and his band, The Move, with a libel suit which redirected Roy Wood's royalties to the charities of Wilson's choice. This redistribution of wealth continues at the time of this writing in 2010, and will continue in perpetuity on all income for Wood's 1967 song "Flowers in the Rain."
According to rock critic Richie Unterberger, The Move was "the best and most important British group of the late '60s that never made a significant dent in the American market." Their "chief asset" was songwriter Roy Wood, who combined "a knack for Beatlesque pop with a peculiarly British, and occasionally morbid, sense of humor."
Libel is defined as "defamation by written or printed words, pictures, or in any form other than by spoken words or gestures." The law of libel originated in the 17th century in England. Currently, the cost of a libel case in Britain, according to a 2009 article in The Sunday Times, can run a million pounds, even though the damages at stake might be just 10,000 pounds. According to the article, "the freedom to criticise fairly and strongly is the cornerstone of debate and progress." The libel laws in England are devastating to a free society. http://www.timesonline.co.uk/tol/comment/columnists/article6879284.ece
Harold Wilson, The Taxman
The song "Taxman" was written by Beatle, George Harrison, recorded in April and May of 1966, and released on the 1966 album Revolver. The song attacked the 95 percent income tax slapped onto high-income individuals in Great Britain by Harold Wilson's Labour government, which continues to this day. "Taxman" was the Beatles' first overt political statement. Indeed, Harrison once stated, "'Taxman' was when I first realised that even though we had started earning money, we were actually giving most of it away in taxes. It was an
"Taxman" marked the first time public figures were mentioned in a Beatles song, and it has been established that Harold Wilson was the "Taxman," since his name is mentioned in the background vocals along with conservative leader, Edward Heath. http://oldies.about.com/od/thebeatlessongs/a/taxman.htm
Roy Wood and The Move
On November 13, 2010, Roy Wood, founder of The Move, Electric Light Orchestra, Wizzard, and other bands, received a "Star" on the Birmingham Walk of Stars in his hometown of Birmingham. Wood told the crowd, "It's fantastic to have your home town support you in this way. It is really really good. I'm just honoured, really. What can I say? It's fantastic." With a little chuckle at the end of the interview, Wood slipped in the following remark:
"At least people can walk all over me again."
http://www.bbc.co.uk/news/uk-england-birmingham-11750900?ref=nf
What in the world did Wood mean by this statement?
roywood
The Move, from Birmingham, England, was one of the leading British rock bands of the late 1960s and early 70s. They scored nine Top 20 UK singles in five years, but did not find success on the U.S. charts. Founder, Roy Wood, composed all the group's UK singles. Their early career was marked by a series of publicity stunts, such as taking an axe to televisions,
The promotional campaign for the 1967 song, Flowers in the Rain, known as a "hippie anthem," generated a libel suit that had major financial and personal repercussions for the song's writer, Roy Wood when the Move's manager, Tony Secunda, unbeknownst to the band, produced a cartoon post card meant to be a "political satire" showing Prime Minister Harold Wilson in bed with his secretary, Marcia Williams. Wilson sued The Move for libel and the group was forced to pay all costs, plus all royalties earned by the song, to the charities of Wilson's choice, among them, the Spastics Society and Stoke Mandeville Hospital.
The Move fired Secunda for this surreptitious publicity stunt. The ruling, however, remained in force even after Wilson's death in 1995, and remains in force to this day. It is thought to have cost Wood millions of pounds in royalties over the years. And the writer of the song doesn't seem to be altogether forgiving 43 years after the event. According to Wood, the nasty post card had absolutely nothing to do with the band, either in content or intent. The members of the band did not draw the cartoon, which was purposely mailed to the Prime Minister. It only took Wilson about 11 days to file the libel suit. (http://en.wikipedia.org/wiki/Flowers_in_the_Rain)
In Roy Wood's words, the Move received "a longer sentence than the great train robbers." And that's for a cartoon post card. Following Harold Wilson's death in 1995, Wood went to court to redirect the payments to charities of his preference, such as the Birmingham Children's Hospital. The response from Wilson's solicitors was that they were unable to touch the original agreement, although clearly the list of charities had changed since then. According to the London Observer, The Harold Wilson Charitable Trust had "extended the range of beneficiaries to include, among others, the Oxford Operatic Society, Bolton Lads Club and the Jewish National Fund for Israel." ("Flower Power: Smashed Hits": http://news.bbc.co.uk/2/hi/uk_news/magazine/6960296.stm
This is what I would consider "walking all over him." But is there more to the story about this "political stunt" gone awry? …Was Harold Wilson a Soviet Agent?
Soviet defector Anatoliy Golitsyn has reportedly claimed that Wilson was a KGB operative and that former Labour Party leader, Hugh Gaitskell, had been assassinated by the KGB in order to replace Gaitskell with Harold Wilson. This claim, of course, has been disputed. The British spy agency MI5 investigated Wilson over several years and decided Wilson was never associated with the KGB. Indeed, Wilson himself claimed to be anti-communist. http://en.wikipedia.org/wiki/Harold_Wilson_conspiracy_theories
But the book Spycatcher begs to differ, proclaiming Wilson to have been a Soviet plant. The author of the memoir, former MI5 officer Peter Wright, claims he had been told that Wilson was a Soviet agent. The story, he wrote, came from none other than U.S. spymaster, James Angleton, himself. Angleton, head of the CIA's Counterintelligence Division during Wilson's first reign (1964-1970), claimed he had heard from an unamed source (probably Golitsyn) that Wilson was a Soviet agent. Angleton offered more information if MI5 would guarantee to keep the allegations out of British "political circles." The British spy agency, according to Wright's memoir, refused to accept the restrictions on the use of his information. Thus, Angleton was reticent to supply any more information.
According to Wright, by the end of the 1960s, MI5 had received infomation that the Labour Party had "almost certainly" been penetrated by the Soviets. Two Czechoslovakian defectors named "Frolik" and "August" had named Harold Wilson amongst a list of Labour MP's and trade unionists who were Soviet agents. (Wright, Spymaster)
A new book entitled, Defence of the Realm, a history of MI5 by Cambridge professor Christopher Andrew, says there were "worries about his relationships with Eastern European businessmen. His contact with KGB officers also raised concerns." However, the book dismisses the longstanding claims of bugging and plots against Wilson. Wilson does, however, seem to have been "the only serving prime minister to have a permanent Secret Service file," which was opened in 1945 when Wilson became an MP, "after communist civil servants suggested he had similar political sympathies." ("MI5 kept file on former PM Wilson" http://news.bbc.co.uk/2/hi/uk_news/8288247.stm
According to Wikipedia, ex-British spy Peter Wright claimed that he was confronted by two of his MI5 colleagues, who stated: "Wilson's a bloody menace and it's about time the public knew the truth," and "We'll have him out, this time we'll have him out." Wright said there had been a plan, approved by up to thirty officers, to leak "selective details of the intelligence about Labour leaders, especially Wilson, to 'sympathetic' journalists." Their contacts in the press and trade unions would destabilise the Labour Government by spreading the idea that "Wilson was considered a security risk." Wright has declined to let any government official see the files on Wilson and he states the plan was never carried out. http://en.wikipedia.org/wiki/Harold_Wilson_conspiracy_theories
Was the plan ultimately carried out by the manager of an obscure rock band from Birmhingham, The Move's Tony Secunda? Were there any invisible tentacles behind this publicity stunt? Was MI5 possibly involved in this prank to take down Harold Wilson, and did this plot instead turn bizarrely on the band and the writer of the song? Perhaps this possibility is something that Roy Wood has turned over in his mind in the past 43 years.
Libel Reform
On January 27, 2010, the British government announced it would establish a working group to examine concerns that U.K. "libel laws are having a chilling effect on freedom of expression," and enourage "predatory suits." Such suits are not restricted to the United Kingdom's borders and can easily affect US citizens. A British group called The Legal Project has provided information to the Senate Judiciary Committee regarding the potentially severe consequences of a U.K. default judgment on US victims of "libel tourism." http://www.legal-project.org/issues/uk-libel-law.
In August 2010, the British-based Libel Reform Campaign expressed concern that Britain's reputation is being damaged internationally due to what it calls "our restrictive, archaic and costly libel laws, which cost 140 times the European equivalent." http://www.guardian.co.uk/media/greenslade/2010/aug/11/medialaw-barack-obama
Let's welcome the U.K. into the 21st century!
On January 18, 2008, Wood was awarded an honorary doctorate by the University of Derby for his contribution to music. Although many voices in England are clamoring to make Roy Wood a knight, I would suspect at this point Roy Wood isn't interested in a British knighthood. I think the appelation "Dr. Roy Wood" suits him better. P
Where is Roy Wood now?
In the following interview, Wood claims he has "stuck himself away" in his private studio … "somewhere not easily accessible." He tours England with his band, the Roy Wood Rock & Roll Band.

His websites are:
http://www.roywood.co.uk/news.html
http://www.themoveonline.com/news.html
Some of his hit songs:
Brontosaurus

Video for Roy Wood's solo hit in UK:
Dear Elaine

Rock n Roll Winter

Roy Wood on Boulders, Wake Up

Roy Wood on Boulders, Song of Praise

For more songs please search YouTube.
"Roy Wood was the Grandfather of Glam Rock": In this interview with the Telegraph, Roy tells how manager Don Arden ruined his career, how EMI in 2008 reissued the new Boulders CD without his permission or input, and that Bev Bevan is now touring as The Move and stealing his tunes!:
http://www.telegraph.co.uk/culture/music/3667317/Roy-Wood-was-the-grandfather-of-glam-rock.html
Drummer Bev Bevan is now on tour as "The Move" without permission of the composer of the Move's songs, Roy Wood. Read Wood's statement here:
http://www.themoveonline.com/news_roystatement.html
In 2009, Roy Wood became a guest editor at the Mercury Times, and penned this article on daytime television in the UK: http://www.sundaymercury.net/roywoodcampaign/roywoodcampaignnews/2009/05/10/move-and-elo-star-roy-wood-why-i-hate-daytime-tv-66331-23584403/
Article by Roy Wood at the Mercury Times on anti-binge drinking in UK:
http://www.sundaymercury.net/birmingham-blogs-comment/columnists/2009/04/12/rock-legend-roy-wood-writes-exclusively-for-the-sunday-mercury-66331-23362375/
Roy Wood reveals his secret shyness:
http://www.sundaymercury.net/news/midlands-news/2009/04/05/wizzard-and-move-pop-legend-roy-wood-reveals-his-secret-shyness-66331-23312909/
Retrospectives on Roy Wood, article on The Move at Brumbeat:
http://www.brumbeat.net/move.htm
http://www.absoluteastronomy.com/topics/Roy_Wood
Roy Wood, now 64, received an honorary doctorate at University of Derby in 2009. "Roy is widely recognised as one of the most significant British musicians of post rock and roll popular music history, contributing to Glam Rock, Rock, Progressive Rock, and Psychedelia." Graduation pictures here!: http://www.derby.ac.uk/graduation/gallery/honoraries/roywood